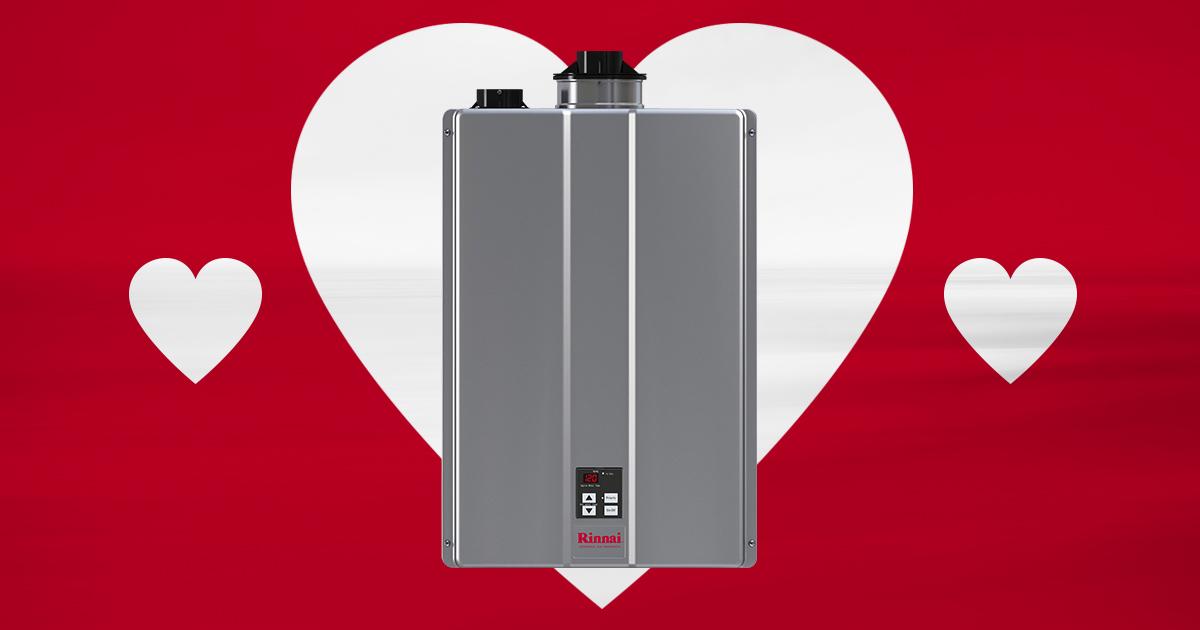 Top 8 Reasons to Love Tankless
It's February and love is in the air. Cold air, that is. And during these chilly winter months nothing feels better than a piping hot shower. So let's celebrate this season of valentine cards and cupids by highlighting the top eight reasons homeowners and installers love Rinnai tankless water heaters.
Reason #1: Provides an endless supply of hot water
No more cold showers during the dishwasher's hot cycle. A Rinnai tankless water heater, when sized and installed properly, emits a continuous and endless stream of hot water at a predetermined temperature. Bring on the large garden tub or shower with multiple high-flow nozzles. Rinnai's got this.
Reason #2: Lowers energy bills
A Rinnai tankless water heater can reduce a home's energy bill up to 40%* based on how much hot water is used per day, the home's layout and other factors. How? A conventional tank cycles on and off 24 hours a day – whether using hot water or not – to keep its gallons of water warm. A tankless, on the other hand, eliminates storage and heats water only as it's used.
Reason #3: Lasts 2x longer
A conventional tank lasts, on average, eight to 12 years**. So every 10 years or so, homeowners can expect to deal with it leaking, malfunctioning or, gasp, not working at all. The life span of a Rinnai tankless, however, is up to twice as long***. That means homeowners can enjoy additional years of not having to worry about their hot water tank rusting, cracking, or leaking.
Reason #4: Boosts home value
Doubling the lifespan of a hot water heating system also can increase a house's value. That's right. The installation of a highly efficient Rinnai unit enables homeowners to up the asking price and reap a bigger profit when selling.
Reason #5: Takes up less space
If space is an issue in a home (and, really, when is it not), then a Rinnai tankless water heater is a no-brainer. The unit is about 1/5 the size of a bulky storage tank – equivalent to a carry-on suitcase. Plus, it mounts on the wall to save precious floor space!
Reason #6: Offers versatility in installation locations 
A Rinnai tankless hot water heater is so compact and offers such flexible venting options, it can be discreetly installed in numerous places throughout the home – from an attic, garage or basement to a bathroom closet. Rinnai even offers exterior models, so units can be easily installed outside the home, too.
Reason #7: Protects our environment
Rinnai tankless hot water heaters are a sustainable choice. The tankless technology achieves maximum energy efficiency, helping to conserve natural resources, and higher standards for lower CO2 emissions reduces your carbon footprint. Plus, Rinnai's recyclable parts mean less waste in landfills.
Reason #8: Adds smart home technology
With Wi-Fi connectivity, innovative Rinnai tankless hot water heaters (2006 and newer) can be remotely monitored and controlled via smart devices, a cool feature that benefits both the homeowners and installers.
Have you fallen in love with Rinnai tankless hot water heaters? Share your reasons on our Facebook page! If you're a homeowner just getting to know tankless hot water heaters, reach out to a Rinnai dealer today. And see why tankless may be just what you've been looking for!
*Based on average cost to run an electric tank water heater per the Department of Energy (DOE) Average Energy Costs (doe.gov) 2017.
**Based on https://www.lowes.com/projects/repair-and-maintain/when-to-replace-a-water-heater/project
***Based on DOE ENERGY STAR® lifecycle estimates.