Preassembled Rack Systems
The Rinnai Tankless Rack System (TRS) has multiple tankless water heaters mounted to a sturdy, durable rack that arrives ready to meet your most demanding commercial hot water requirements.
Tankless Rack System Benefits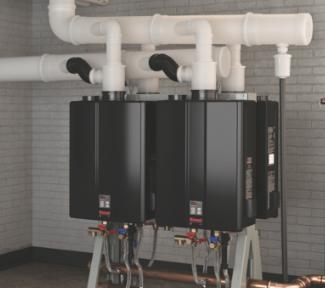 Powered by CU199
Comes standard with up to six commercial CU199 high-efficiency tankless water heaters mounted and connected together on a modular rack, forming one reliable and redundant hot water system.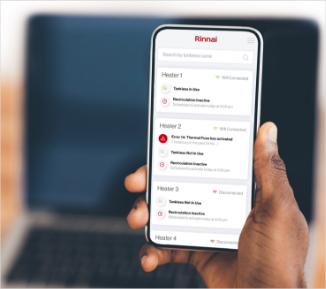 Wi-Fi Capable
Wi-Fi-capable units allow you to receive maintenance alerts, set schedules with your phone, have a Rinnai PRO remotely diagnose your system, and more.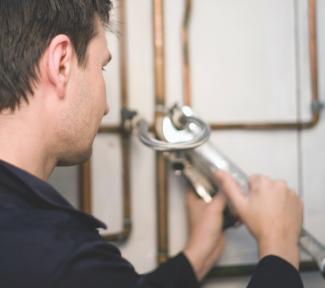 Flexible Installation
Fits fully assembled through 32" doorways for easy access, has various venting options including PVC and the Rinnai PP Common Vent System, and can be mounted indoors or outdoors using natural gas or propane.
Meeting Your Commercial Needs
Superior Reliability
The Tankless Rack System offers the perfect BTU upgrade of an old-fashioned domestic water boiler. For retrofit applications, you can often keep your existing tank and pump and simply replace with the lower cost and better performing system.

Preassembled with one connection point for gas, water, electrical and the condensate drain, the Rinnai Tankless Rack System offers simple installation while reducing labor time and cost.
Tankless Rack System Case Studies