Smaller, more powerful and easier to service, the Rinnai M-Series Condensing Gas Boiler offers more efficiency for both installers and homeowners.  Download the Next Generation in Boiler Technology Brochure today.
Image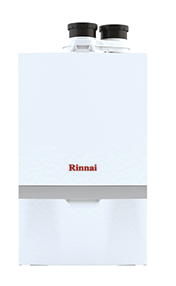 Image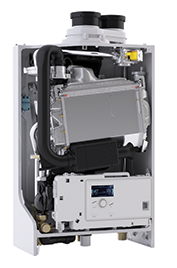 Efficient Heating
With an increased heating output range, increased hot water output and increased heat exchange performance, the M-Series Boiler heats like no other. This new design and enhanced performance offer:
More heat transfer for domestic hot water
Consistent temperature control of water used in the heating system
Efficient gas and less electrical consumption, resulting in consistently lower utility costs
Quiet operation – comparable to the range of ambient noise in a library
Easy Install
The M-Series Boiler is 35% smaller and 9% lighter than previous models, making installation a snap. In addition to its compact and lightweight design, the M-Series Boiler features:
A convenient mounting bracket
NPT threads for connection points
More flexible venting options
Simplified parameters for commissioning and setup
Simplified Service
Maintaining and servicing the M-Series Boiler has also been rethought completely to make it that much easier to service. All service points have been moved to the front left side of the unit, and all you have to do is lift and remove the cover for easy, full access.
On top of that, the new larger display offers a simple control interface with simplified parameters and easy menu navigation. Everything about the M-Series Boiler has been designed with speed and ease in mind.
Learn more about the M-Series Condensing Gas Boiler here, and for more information about Rinnai products, visit rinnai.us.