Better Living. Smart Business.
With a complete range of solutions for multifamily properties, Rinnai Commercial and Residential Water Heating Solutions deliver a lower total cost of ownership and safe, reliable hot water.
Rinnai is the Right Choice.
Why should I consider a Rinnai Commercial and Residential Water Heating System?
Rinnai systems require minimal installation space and can be wall or floor mounted indoors or outdoors - even roof mounted.
Rinnai tankless units can be configured as individual metered units or central systems.
No ASME boiler certifications or inspections required*.
How is Rinnai different?
Rinnai's proven, long-lasting design and easily replaceable low-cost components ensure a lower total cost or ownership.
The Rinnai Application Engineering Center of Excellence offers the first 100% system sizing guarantee. ** 
Rinnai's best-in-class commercial warranty provides 8 years or 12,000 operation hours on the heat exchanger, 6 years on the tank, 5 years on parts, and 2 years on service.
* For tankless units less than 200,000 BTU.
**System sizing 100% guaranteed is based on fixture types and quantities at the time of sizing request.
Case Study
BRG Apartments - Fox Run Apartments Cincinnati, OH
About Fox Run Apartments
240 units, 20 buildings, 12 apartments per building
Solution: Replaced existing electric tanks with Demand Duo H-Series
Benefits:
Over $20,000 in Reduced Energy Costs in first year
Water Savings
Reliable Hot Water
Case Study
BRG Properties – 20 Midtown Apartments Birmingham, AL
About 20 Midtown
325 residential apartments on floors 2-5, retail located on ground floor
Solution: Installed 35 tankless units on pre-assembled racks in 4 top floor locations
Benefits:
Hot Water in Six Seconds
Reduced Energy Costs by 80%
Eliminated Hot Water Outages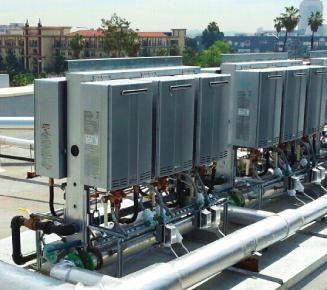 Solution Agility
Rinnai will design your hot water system around your specific needs rather than a one-size-fits-all solution. All System sizing's are backed with our 100% System Sizing Guarantee.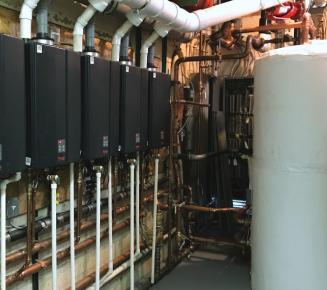 Space Savings
Rinnai's Wall Hung tankless racks save space in your mechanical room, fit through a 32" door and can even be located on the roof.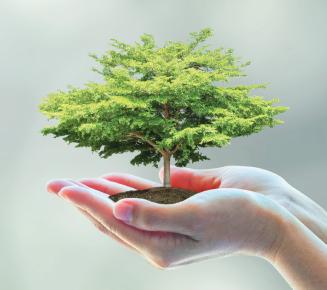 Sustainability
Rinnai helps you lower your carbon footprint and attain LEED Certification by producing less waste, reducing standby loss and increasing energy efficiency.

Rinnai helps you lower your carbon footprint


Rinnai helps you lower your carbon footprint